Gunilla Nadler CV
Artist & Film Director
Born 1957. Presently living in Göteborg, Sweden
Education:
Water colours was my starting point, and I studied for Margareta Persson. Now smitten by art, I spent the summer of 1997 in Provence taking art classes for the Gerlesborg Art School under the direction of Arne Isacsson. Three years of Art College followed,
the Art Programme at Folkuniversitet, along with extra classes in model painting.
2000 - 2003, Graphic Programme at Nya Dômen Art School
2003 - 2005, Painting Programme at Nya Dômen Art School
2006: "Life Stories and Memories", University of Gothenburg 30 credits
Autumn 2006 - Spring 2007, Thematic studies in film/video/art at Valand Art College.
2007: "Identity", University of Gothenburg, 15 credits
2007 -2009, Astronomy, University of Gothenburg, 75 credits
Courses:
Enamel, glas blasting, forging/welding, screenprint and painting on Floatglas.

Film production and directing:
- Projecting of new documentary in Nätverkstan/Medialab 2017;
- Art Video Project 2015, 2016 Nätverkstan/Medialab;
- Nätverkstan/Medialab with my poetic documentary as a feature film 2012, 2013,2014,2015;
- "Rich in memories" was submitted 2014 for Guldbagge Award in the category Documentary;
- Shortfilm: Interview about "How does our memory work scientificaly?", 2014 Nätverkstan/Medialab

Visit my site www.gunillanadler.com/rikavminnen to read about my work as Film Director and filmmaker. You can also have a "taste" of this documentary film and other ones.

Film premieres / Film showings:
— Flatö school, Flatön, showing of the documentary "Rich in memories" 3 November 2016
— Smögengården in Smögen, showing of the documentary "Rich in memories" 1 September 2016
— Culture house Kajutan in Henån, showing of the documentary "Rich in memories"
14 November 2015;
— "Rich in memories" shows at Bostadsbolagets culture senior club 2015-03-12;
— Gothenburg Film Festival 2015-01-25 has showed "Rich in memories" at Hagabion
— Bohusläns Museum in Uddevalla, showing of the documentary film "Rich in
memories," December 2, 2014;
— Film premiere of the short film "How does our memory work scientificaly?"
6 September 2014 at Hagabion in Gothenburg;
— Film premiere of the documentary "Rich in memories" 5 September at Hagabion in Gothenburg in 2014. The film was shown during 1 week, 5 to 11 September;
— Film premiere of the documentary "Rich in memories' 8 May at the cinema
Cnema in Norrköping 2014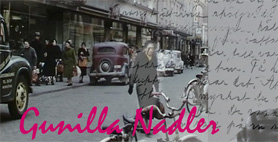 Click on the picture to visit Gunilla's film homepage.
Individual Exhibits, a selection:
Massagekliniken Göteborg, 2016, 2017
Tyska Christinae Church 2012;
INSAP 6, Palazzo Francetti Venice 2009;
Galleri Rita, Gbg, "Two Dimensions", 2008
Miele Gallery, Göteborg 2008
Göteborg's City Museum, restaurant 2008
Ljungskile folkhögskola, Library, 2008
Öckerö Library Exhibit Hall, 2007
Frölunda Kulturhus Large Exhibit Hall, "In Motion" 2006
European Chiropractors' Union Convention
2006, Stockholm
Älvstranden Library, 2005
PVH Volvo Cars, 2003
Sörredsgården, Volvo 2002
Tuve Library, 2002
Gillestugan restaurant, 2001
Gillestugan restaurant, 2000
Lundby Hospital, 1998
Tuve Library, 1998


Group Exhibits, a selection:
Galleri Majnabbe, Decembersalong 2017
Galleri KC väst, La Famiglia 2017
Galleri Majnabbe, Vårsalong 2016
Galleri Uddenberg, MIKRO, 2015
Galleri KC väst, 2015 Art Tour Västra Hisingen 2014, 2015, 2016, 2017
Vårsalong, Galleri Majnabbe 2013
Art Tour Västra Hisingen 2013
Art & Science, 3:e Våningen Sockerbruket 2013
Art Tour Västra Hisingen 2012
Vårsalong, Galleri Majnabbe 2012
Art Tour Majorna 2012
Anniversary Exhibit, Gallery Bildkällaren, Falköping 2012
Mimers Art Hall, Kungälv 2011
Kristallsalen, Rådhuset Marstrand 2010
Galleri Tändsticksgränd, Jönköping 2010
Majnabbe, Spring Salon, 2009
Galleri Majnabbe, Anniversary Exhibit, 2008
Main Art Hall - Bohuslän Museum
(jury-assessed) - Bohus Salon 2007
MIKRO 2007, Galleri Olsson & Uddenberg, Göteborg
Galleri Majnabbe, 2007
Christmas Salon 2006, Göteborg Art Society Gallery
Galleri KC Väst, 2006
Galleri Majnabbe, 2006
MIKRO 2005, Galleri Olsson & Uddenberg
Art Project, Atalante, 2005
Växthuset, Trådgårdsföreningen 2005
Galleri Cosmopolitan (jury-assessed) 2005
Galleri Nordens Bilder, Kungälv 2003
Blå Stället, 2003

Commissions:
Cover image for journal Judisk Krönika no 4, 2014.
Click on this link www.gunillanadler.com/commisions.html
Image for the cover of Erik Holmberg's doctoral thesis, Dept of Oncology, University of Gothenburg, 2004; Murals/ main lobby at Lundby hospital, 1998
"The Universe - The World's Greatest Art Gallery", 2007 Göteborg Science Festival
Unilabs Haga X-Ray
Carlanderska Hospital
Kungsgatans Sjukgymnastik

Represented at:
Capio AB
Capio Lundby Hospital
Tuve-Säve City Council Offices
Brunnsboskolan
Neurology Dept, Lundby Hospital
Porthälla Teknikcentrum
Lundby Art Society
Rambergsklinikens Sjukgymnastik
Teater Thalia Balettakademien
ABBA Sea Food Art Society
Göteborgs Energi, Art Society
Car Art, PVH Volvo
Atlantis
Educational Administration Art society
Carlanderska Hospital
KAL, an art society
Penseldraget, an art society
Chiropractic clinics in Europe
VTK, Volvo Tjänstemannaklubben
Chalmers Art Society
Kungsgatans Sjukgymnastik
The Inspiration of Astronomical Phenomena VI

My picture are at/I cooperate with the following galleries:
Galleri Grafik i Väst Grafik i Västs hemsida
Galleri Majnabbe Galleri Majnabbes hemsida
Galleri KC Galleri KC:s hemsida
Galleri Blå Porten Galleri Blå Portens homepage

Scholarships and grants, a selection:
2008 Helge Ax:son Johnsons Stiftelse
2006 Katz Judiska Kulturfond
2006 Wilhelm och Martina Lundgrens Understödsfond
2004 DHR:s Bidragsstiftelse
2004 Ragnhild Frykbergs Stiftelse
2004 Helge Ax:son Johnsons Stiftelse
1999 Wilhelm och Martina Lundgrens Understödsfond
1998 Stiftelsen SVCR
1998 Stiftelsen CTRF-Riksförbund

Lectures:
"The Universe - The World's Greatest Art Gallery",
2007 Göteborg Science Festival

Projects:
2008 "Mikrocosm/ Macrocosm"
2006 "The World in Sweden"
2004 Fundamentalism/ Vulnerability

Member of the following associations:
KKV i Göteborg, KC Väst Galleri KC, BUS, Nätverkstan/Medialab, Göteborgs konstnärsklubb(Galleri Majnabbe), Göteborgs art society, Nordic Water Colour Society, Association Swedish Artists, Grafik i Väst.
All my arts/videos on my home page are protected by BUS, © Gunilla Nadler 2018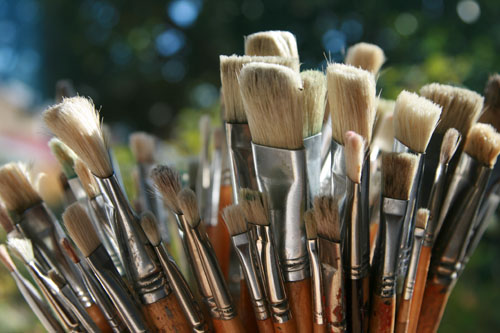 Life resembles a ballerina on a tightrope.
In the same way, we sway and seek balance as we move ahead. Crossroads appear that force us to change our course. We're constantly in transit, in motion.
As an artist, I've found that strong emotions and experiences often set large-scale projects into motion where images flow and evolve into a wide range of expressions.
Different materials excite me and invite new routes of expression.
Oil, acrylics, and water-colours offer a wide range of effects, and I enjoy fusing graphics and painting.
In addition to this, I have worked on thematic sculptural installations and a few short art films.
Music and dance affect me and move me, something that shows in my work, which reflects a kaleidoscope of colours and swirling motion.
For the past few years, I have taken classes in Astronomy taught by Maria Sundin at the University of Gothenburg. This has been a tremendous source of inspiration. Following a lecture I gave at the 2007 Göteborg Science Festival on the subject "The Universe: The World's Greatest Art Gallery", I decided to create images of my impressions on mirrors. I realised there was a strong correlation between X-rays of the body and Outer Space: "Electromagnetic radiation".
With these images, I would like to guide us into "Our Inner Universe" - our brain. And from this microcosm, we will head out to a macrocosm, our "Outer Universe".
- Unique and unexplored, such is our Inner Universe as well
- Similarities abound between outer space and inner space
- Questions outnumber answers - two mighty mysteries
- Distance does not determine the scope of our knowledge. Our brain is close at hand, but it defies easy comprehension
- Life has gifted us with amazing twin frontiers: Outer Space, infinite and vast,
and Inner Space, our very own personal universe.
Both deserve our attention and care.